Adyson Roles and Haleigh Haddon
Throughout the years, the WHS cross country team has run many different races for the purpose of many different events, such as trying to get the athletes more involved or the coaches putting their abilities to the test. 
On Monday, Sept. 11, the cross-country team went to the Red Rocks Park and Amphitheatre to climb the steps in commemoration of the 110 flights the firefighters climbed the day of the attack in 2001. Bryan Horn (staff), the head cross country coach enjoyed taking student-athletes on the field trip.
"So the 9/11 field trip was a step challenge put on by a company that actually does 9/11 step challenges all over the nation and we decided to join because certainly Mrs. Foxx had the idea and her husband is a firefighter so it was super important for her and for a couple of our parents who are also firefighters," Horn explained.
As an administrator, Horn saw the trip with the eyes that he had when the attack occurred. Alternatively, Sidnei Cumings (12) wasn't alive during the event and had a different experience from her student point of view.
Story continues below advertisement
"Our field trip was doing 110 flights of stairs like the firefighters did at 9/11 and it was very eye-opening seeing how physically hard that was," Cummings stated.

Cumings' dad, a firefighter, attended the field trip as well. Because her dad was right by her side, she had a bigger perspective of what truly happened that day and why it touched so many lives. She said she wanted to fully understand what the firefighters felt that day, so along with climbing the 110 flights of stairs, she wore a weighted vest just like they did. 
"It was very hard, but I just wanted it to be mimicking what really happened with those firefighters carrying all of their gear, and so I had a 50-pound vest on," Cumings explained.
During the trip, Cumings wasn't the only one who had a touching moment with her family. Carley Foxx (staff), the assistant cross-country coach, attended the field trip with her husband, who is a firefighter.
"9/11 is just a reminder of the incredible job that he has and how incredible he and everyone who has the job is. But most importantly, for me, is how lucky I am to have him come home after a shift," Foxx explained.
In the eyes of Foxx, this experience was more than just a simple climb for her and her team. The story of what happened that day still continues to impact future generations and their families.
"I started doing this field trip with students in 2019. I took my first class and realized how incredible this opportunity is for younger students. They got to have perspective on what 9/11 was like, especially since students weren't even born when it happened and it's really hard to recreate the experience and recreate what it was like that day but this is as close as I've seen it get since it occurred 22 years ago. It was really special to see the kids having some emotion from that day and getting a feel for what it was like to be around in 2001," Foxx replied. 
Foxx was able to see the interactions between Cumings and her dad during the trip, which gave her a sense of fulfillment. She pictured what her life could be like in the future.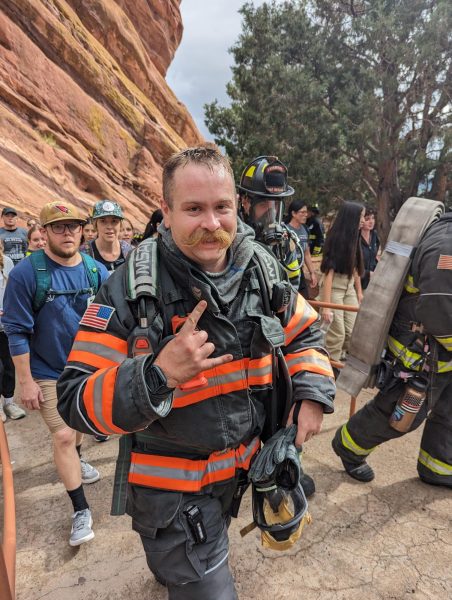 "It was really cool because I don't have kids yet, but the idea of one day having one and having my kid doing the climb with my husband just gave me some sense of seeing things as a full circle and seeing how special it was for her to see her dad climbing for someone he had lost that day," Foxx stated.
The field trip as a whole was a memorable experience that brought people together. Students, teachers and family members were able to grow and connect with one another as a whole. 
"I think they got to actually feel the emotion and the impact of what it did for so many different people. They got to see it in actual real-time as well as all the people that still commemorate this. It was really eye-opening for them," Horn said.
Lives were touched the day of the attack and every following day after. Windsor High students and administrators look forward to continuing the tradition of the 9/11 climb.