Students have spent the last week decorating the doors of their advisory classes with a Halloween theme. Students' advisory classes competed against each other to make the most festive, scary, Halloween door, and the competition did not disappoint.
Courtney Hawker (staff) helped organize the competition. "We wanted to engage students in a more creative way," Hawker said.
The door decorating competition helps to engage students in an artistic way. "Students a lot of the time don't have a creative outlet, so (the competition) kind of gives them that creative outlet, and something different that's not content driven," Hawker added.
Story continues below advertisement
From bodies hanging from the ceiling to dead mannequins, students definitely showed their creative abilities. Rebecca Maes (10), in Michael Thompson's (staff) advisory, helped create a crime-scene-themed door with a body on the ground. She described how some competition with her neighboring class, Jon Rakiecki's (staff) advisory, helped inspire the door. "We saw Mr. Rakiecki's door with a body, so we made our own with a bag of leaves, but ours is better," Maes said.
Sabella Hilliard (09) described how she had fun with the competition, despite having mixed feelings on how the door turned out. "I had a lot of fun making the trees and leaves, but our door was kind of sloppy and had a lot more potential," Hilliard said.
The entire student body voted for which door they thought was the best after seeing pictures of all of them in a slideshow during advisory on Halloween. After the voting was held, Tina Mezzoni's (staff) class and the hanging bodybags came out as the winner of the competition; Mezzoni's class also won the competition in 2022.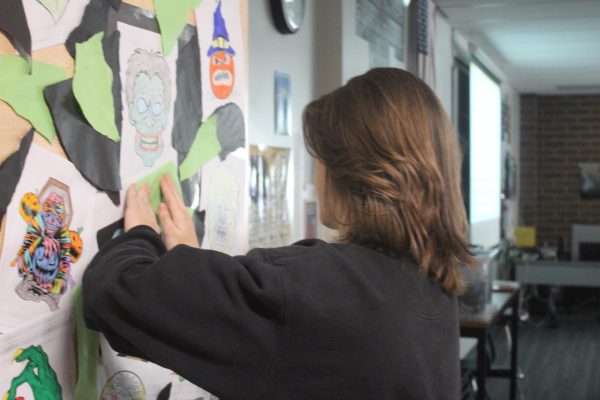 Haleigh Haddon (10) was one of the students who worked on the winning door. "It was cool that I got to work together with the people in my advisory, and we got to make something that most people wouldn't try to go all out on and we did," Haddon said.
The door took over a week to make, but the work was worth it. Haddon said, "Mrs. Mezzoni has a reputation for wanting to win everything, so we always give 100%."
Mezzoni's class not only gets the bragging rights of making the best door, but also gets a breakfast burrito party to celebrate. Many students and staff enjoyed the door decorating competition, and it definitely gave a festive atmosphere to the hallways for halloween.