Over the past few years the choir program has grown, and part of that is due to its community. WHS Director of Choirs Amy Murphy (staff) and the students have worked hard to create a program that is welcoming to all, giving everyone a chance to experience what it's like to be a part of something that is so collaborative.
"Well, I started choir in the seventh grade, and I really wasn't gonna fit in there. And as soon as I started doing it, I knew it was for me. And continuing that through high school has really made me realize how, how happy I am to be a part of this community. Yeah, I got it and it's a lot of fun," Gabe King (09) said. 
King explained his favorite parts of choir, different moments of concerts, and how choir made him feel. "My personal favorite part about choir is, I would say, the very ending of songs," King said.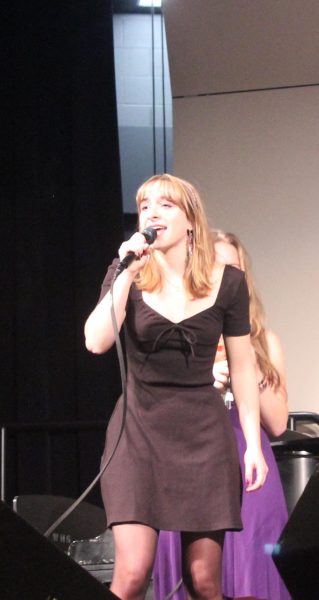 Opal Schlessman (12) has been part of the choir for several years and has been the lead in multiple school productions. "I think it's been a really good experience. You get to make a lot of new friends. Meet people that you maybe didn't think you were gonna meet, and I feel like I've grown so much over the time that I've been here and I've learned so much," Schlessman said. 
Story continues below advertisement
The choir experience is made for those who want to grow in a community and become better singers; in choir, people work together to make a uniform sound. If one person is not in line, then no one is in line.
"I'd say it's super supportive. Not only from, like, Mrs. Murphy and Mr. Millan but also, like, everyone in there wants everybody else to be good. Yeah, so, we all just lift each other up," Ashla Fulenwider (12) said. Fulenwider joined choir her junior year and ultimately wished she joined it sooner.
Some of the choirs are non-audition; to get into the more advanced choirs such as concert, treble and wizardry, students audition to get in. Even though it may seem scary to audition, the experience is designed to help students feel comfortable and empowered.
"So it was a really chill and easy audition process, because it's not something that should be worrying at all because you're gonna get in no matter what," Reese Navarro (12) said. 
Navarro and Schlessman are currently in both the Concert and Wizardry choirs, even singing solos during one of Wizardry's jazz songs called "Deedles' Blues" at their fall concert on Oct. 11.
"One of my favorite parts about choir concerts is essentially Wizardry, because jazz is such a fun type of… style," Navarro said.
Wizardry, the top choir, was a real show stopper during the Oct. 11 fall concert.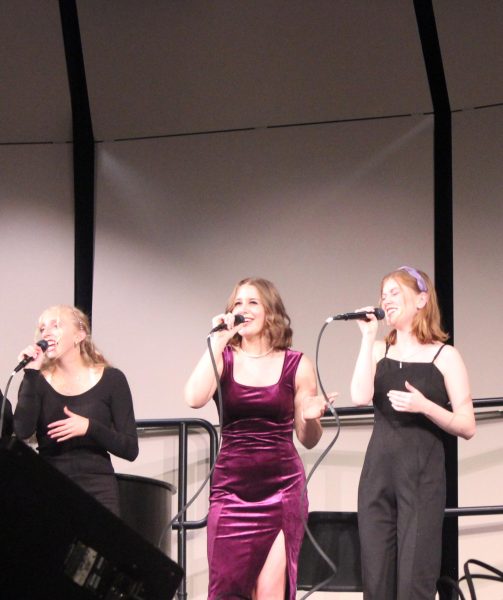 "I loved the Wizardry song called 'Deedles' Blues,' and it was my favorite. I thought it was really well done," Kerri Navarro, Reese's mother, said. 
The choir program's first concert this year started off with the Women's Choir, combined Women's Choir, Concert Choir, Combined Men's Choir, Treble Choir and Wizardry. The concert closed with a soul-moving song — sung by the combined choirs — called "Turn the World Around."
In the song "O Love," Jane Gilmore said she "loved the real melodic parts," going on further to say it was lovely to watch her two granddaughters perform: Leah Gilmore (11) and Elsa Gilmore (09).
The concert was enjoyable for both the audience and the choir participants, and many participants said they felt emotions while performing.
"You'll hear it in a minute, at the end of our big song, we have this big final chord and it's really beautiful. Especially when it comes to getting together really beautifully," King said just before the performance commenced. 
For some of the students, this was their first high school choir concert, and for others it was the first of the last few concerts that they will have here at Windsor High School. For some, this may be a trial run for future performances, but for others this was the trial run for their final concert. 
Over the years, choir students have shared the experiences with those that have come after them, watching groups grow immensely over the course of the year.  
"What I really love the most is seeing them perform at their very first concert and seeing them perform at their last concert, because the amount of growth and confidence they have over just a couple of months is extraordinary to see," Navarro said, who herself was mentored by students who were in choir when she first joined.
Navarro, and seniors like her, have seen three other classes come in after them, and now being the "elders" of the school, their influence can now pass onto the future generations of WHS, so that they may experience the same joy of watching others grow in confidence and skill.
"And then to see them go off and move into different choirs, and some of these people, like, I watched them performing in other choirs and now they're singing with me this year. It's just super special," Navarro said. 
Even though this will be Navarro's last year in the WHS choir program (along with Schlessman and Fulenwider), they will have those moments that inspired others to join the choir program.
 Just like this year's seniors, the next class will be able to watch the next group of kids grow and join them as an equal.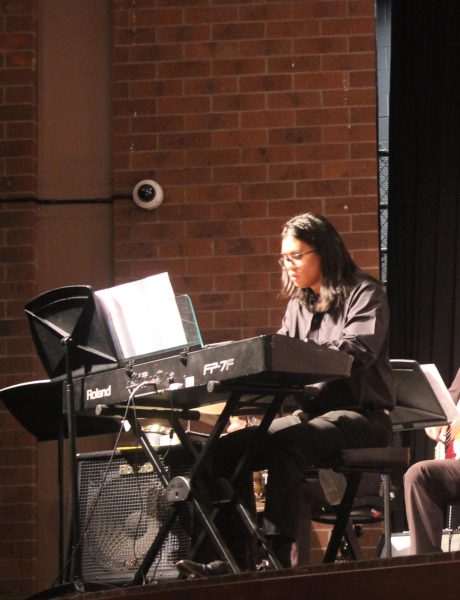 Michael Millan (staff), the concert's piano and percussion accompanist, has been a part of the school for a few years. During this time, he has grown close with the students and watched their skills increase.
"I like seeing the growth and people, like, getting better. I like hanging out with, like, the kids and the students. Yeah, it's fun," Millan said. 
Millan discussed his passion for music and how that drove him to take the job when Murphy, the choir director, asked him if he wanted the job. That, and he was working at Home Depot when he got the call.
Many people believe Murphy is the real reason behind the success of the program, influencing her students with optimism and a sense of belonging in the choir community. Her passion for music helps inspire students who pass through the doors of her classroom.
"I grew up in a musical household: my dad was a high school choir teacher; my mom won her regional Metropolitan Opera Audition, so she was a pretty awesome singer. I was kinda surrounded by music at an early age, and it just always felt like home. And so yeah, I ended up doing it all through school and here I am," Murphy said. 
"
We spend so much of our time worrying about what is going to happen in the future or thinking about things that have happened in the past, and we spend very little of our time actually being present in the present moment. And making music is something that you have to do in the present. You do not have a choice but to be fully present in that moment. And when you're making music as an ensemble, and especially with singing, you're literally all in that moment together. Creating the same emotion, the same sound, the same feeling — together. And it can be incredibly powerful. And I think it's one of the ways that we are able to express and grasp the ineffable in our lives, those things that we can't put into words, and it opens us up as human beings to things that are bigger than ourselves.
— Director of Choirs Amy Murphy
Her passion for music has inspired many and has made the experience in choir a path for improvement in their singing and their musical careers. 
When discussing her favorite part about teaching choir, Murphy said, "I think my favorite part is feeling something happen in the music and looking up and seeing it run through the singers' beings all at the same time. And you can see the emotion come across their faces. And then they look at each other. Like, 'Wow, yeah, that just happened. Did you feel that?' and they all felt the same thing at the same time, and it's not something that you can put into words, but they have the shared experience. To watch them really make those connections together both musically and, I don't know if this is a word, humanistically."
Murphy's passion is so immense, and expressive that the students can take that energy and become invested in the music; then, when they perform, they become collective — a single choir made up of individual people.
"I'm going into my fourth year here. We have developed a common language (with) the people in my program, my students and I. And so there is a lot that they now have, there is a shared vocabulary that they now have, they now have the vocabulary of a musician. And they know what I mean when I asked for a certain sound and because we've practiced it so much. They know how to get that sound. And they're able to achieve a much higher musical excellence so much more quickly than when I first got here. And, I mean I got here in COVID,  but I really feel that they are much further along earlier in the year. (They) are able to do more complex and challenging and fulfilling (songs) at an earlier time in the year than they normally would be. And it's incredibly rewarding," Murphy said.
Her excitement in watching the students grow in skill, friendship, compatibility (as a one-voice group) and excitement for music shows her true want for her choir students to be great and do great things. 
She has taken the program and made it a home for everyone: an open door, calling all those who have a desire to sing. 
Murphy said, "Choir is open for everyone regardless of previous experience, and we welcome anyone who is interested and you can reach out to (me) if you're interested in joining next semester."