The bonfire is a tradition shared by millions of people around the world, and Windsor has just brought it back for even more to enjoy. On Sept. 28, the WHS Student Council hosted its second bonfire in recent history.
After many years, WHS brought back the centuries' old tradition for staff, students and community members alike to enjoy, but it's not as simple as dousing logs in gasoline and throwing a match in. 
Student Council adviser Michael Thompson (staff) said, "We had to get approval from the town of Windsor and from the fire marshal, since we are having an open fire on campus…. In addition to that we had to have administrative approval, approval from Dr. Dodd and the administrators."
Not only did WHS Student Council have to gain approval from several governing entities, but they additionally had to provide proof of safety: "In the process of those approvals we had to show what measures we were taking in order to keep people safe, as well as how we were going to isolate and separate people from the fire itself… trying to reduce the likelihood of something going wrong," Thompson said. 
Story continues below advertisement
In order to ensure safety, the Windsor Severance Fire Rescue was present at the event in case the fire became uncontrolled. Firefighter Dalton Irwin said, "The biggest thing for us is life safety…. We just want to make sure that nobody's going to get hurt, and that everything is under control, and if we have to put the fire out we're ready to do that."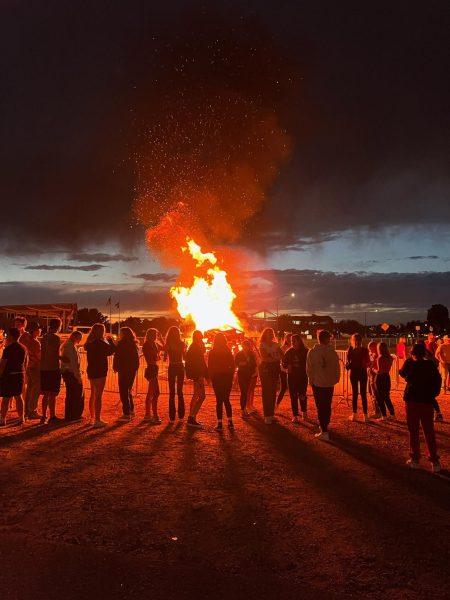 Despite the fire department being present for safety, the firefighters enjoyed the event in a social setting: "It's great to get out in the community, especially younger folks. I know when I was in high school there were a lot of people who wanted to go to college and learn how to get a good-paying job… this maybe will show the younger generation how cool our job is and our interaction with the community," Irwin said.
Being the second bonfire that WHS Student Council has hosted, officers knew more of what to expect. Johnnie Reed (12) said, "Last year was our first time ever doing it. It was really the trailblazer on getting this tradition going…. Remembering back on it, last year we had 300 to 500 kids… I think it's low key and I think it's simple. It's just not high stress."  One of the changes the Student Council made this year was including a local food truck, which seemed to be a big success.
This year had an even bigger turnout with students who did not go last year. One of those students is Asher Dunnell (10). Dunnell said, "I knew about the bonfire last year, but I didn't really know about it." Despite not going last year, Dunnell decided to go this year: "I wanted to go with my friends this year…. I really enjoyed spending time with my friends and hanging out with them." 
Students, staff and the community alike seemed to enjoy the environment that was created by the hard work of the Student Council. With luck, this will be a long-burning tradition.