At the start of the 2020 school year, high school sporting events looked a lot different than they do today. Fans were very limited due to COVID-19. Michael Vasa (staff), the video production teacher at WHS, wanted to give the opportunity for family, friends and fans to watch their Windsor Wizards sports without leaving the house. So, he founded Windsor Wizards Broadcasting Network, the WWBN. After three years, WWBN is still in full swing and much improved.
Vasa created WWBN amidst the complications of the pandemic, with the expectation the club was temporary."When we first started, I didn't know how long it would last," Vasa said.
The success the club saw led to it continuing and improving. Now 11 jobs are worked per game, compared to the four when the club started. These jobs range from announcing to directing the game. The production level of the broadcasts has benefited from these improvements.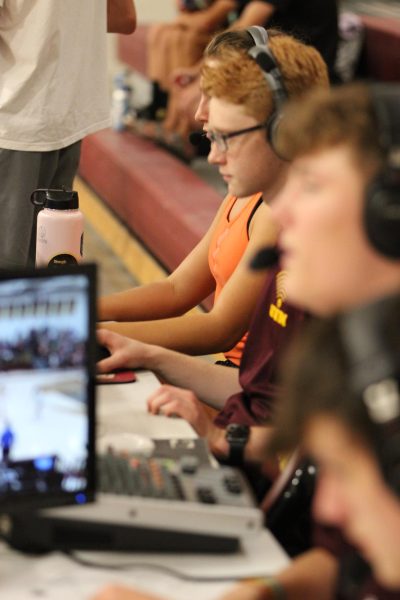 "What we offer to the public is pretty close to ESPN," Vasa said.
Story continues below advertisement
This level of production comes from the hard work of the club members, as well the dedication of Vasa. They aired broadcasts to hundreds of viewers and did not miss a home soccer, lacrosse, basketball or football game. There is no sign of slowing down, as the WWBN is right back to work this year. They have had a very successful fall season, with 860 views on their most recent football broadcast.
"My favorite part (of running the club) is watching the students grow and come together to deliver a product like a national broadcast," Vasa explained.
Students get an opportunity that most high schoolers don't. Vasa described that the kids learn and improve throughout their high school career within the WWBN: "Watching kids go from only behind-the-scenes work and swearing they would never be on the air to announcing live games in front of hundreds of viewers is truly amazing."
Ellie Sedaghat (12) has been a part of the club since her freshman year when it began. "WWBN has given me a reason to get through high school, and to be involved with the school," Sedaghat said.
Students are able to get involved and make a positive impact because of the club. Booker Whittington (12) also has been in the club since his freshman year. "It's awesome to see a diverse group of students all come together to create a professional broadcast," Whittington said.
The WWBN provides a special and unique opportunity for WHS students, many of whom are planning on pursuing a career in sports broadcasting. This opportunity is possible partly because of COVID, but mainly due to the hard work and dedication of Vasa. The WWBN will continue to provide coverage and has no plans of slowing down.
Stay up to date on all things WWBN: