The cheerleading team has experienced many new changes, including Liz Kampschroeder (staff) being the new coach, new chants and reinventing Walter, the school's live mascot.
Kampschroeder is the new head cheer coach this year, and she has already made her mark this season.
"It's been a lot of fun and it's been a ton of work, but we have 35 really amazing kids on our team this year," Kampschroeder said.
With the cheer team now having new chants, the cheerleaders have been able to elevate football games and the student section overall.
Story continues below advertisement
The senior cheerleaders went through all the old cheers and created new ones; in total, the cheerleaders made nine new cheers for the games, including defensive, offensive and spirit cheers.
"Yeah, so what we did is ask our seniors to take an entire list of all the cheers that we had and decide which ones they wanted to keep and which ones they wanted to get rid of," Kampschroeder said.
Another change was the rebirth of the wizard mascot. The wizard mascot is back after years of being unused. All grades voted on what the mascot's name should be, and a winner rose to the top: Walter.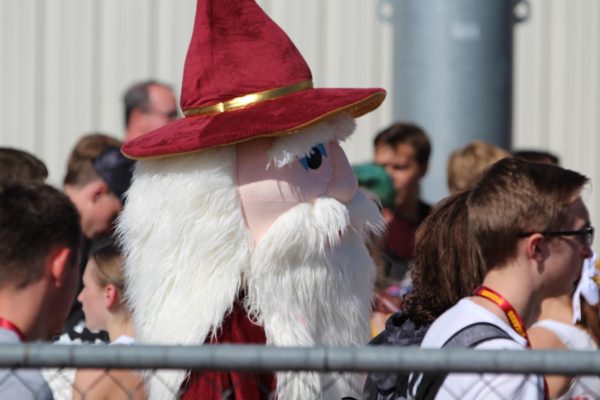 "Yeah, I think Walter's a great addition to the team. It makes everything way more fun," Hazel Aschliman (10) said. Aschliman is sophomore on the cheer team and is cheering for the first time this year.
When trying to make the team her own, Kampschroeder heard about the wizard costume.
"We have had the mascot. He's been here but when I saw him in the cage, I thought, 'We have to use him because it's so fun to have a big mascot at games or showing up in random places,'" Kampschroeder said. "Kids love the idea of having a mascot."
Kampschroeder became the new coach over the summer, and she clearly has already made a big difference for her cheerleaders and for school spirit. Last year when the cheerleading coach position became available, Kampschroeder said she knew it was her chance to make a difference. She was encouraged by her students who were cheerleaders to get more involved.
"Last year when I was teaching at Windsor, I had cheerleaders in my class that weren't really happy, but they loved to cheer and so when the coaching position became available, I thought about how could we bring some change to the culture and climate of the cheer team and that at least we could give it a try," Kampschroeder said.
Many of the cheerleaders this year have noticed that she has already changed the culture and climate like she was hoping to. Hailey Andreason (12) is one of those cheerleaders who has noticed positive changes. Andreason has cheered competitively for 11 years and for the school for three years.
"(Kampschroeder is) amazing. She's done so much for this program and just really turned it around — not just in the work we're doing but in how she treats the athletes. (She) is not just concerned about what we are doing with cheer but also about us and our well-being, making sure that we have this team unit and just, like, working together as a family," Andreason (12) said.