On Sept. 2-4, the people of Windsor and surrounding communities celebrated Labor Day weekend with the parade on Main St. and the festival at Main Park.
"It's important to the town because it's a good community gathering," Chairman of the Harvest Festival Casey Johnson said. "We've got over 230 booths this year, so it's the most we've ever had."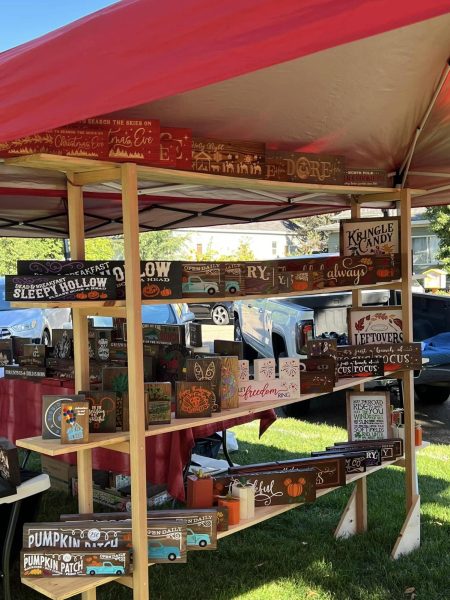 Booths ranging from food to literature to art littered the park while music filled the air. People of all ages carried shopping bags and sipped on strawberry lemonade from local food vendors.
Windsor resident Marina Fowler (11) said, "I really love the booths and stuff you get to see and the stuff you get to buy afterwards. I think that that's a lot of fun." 
Story continues below advertisement
The Harvest Festival has an eclectic mix of a little bit of everything and with this being the 101st year, the variety seems to keep people coming back, including Fowler, who said she attends every year.
Of course, not all attendees are just there to walk around booths and see the parade. This includes Windsor High School's very own Spanish teacher Amanda Kendrot (staff). Kendrot and her husband own Rugged Skies Woodworks, a veteran-owned and operated small business offering custom wood designs. 
"We had really good business. This was our best year," Kendrot said. They have attended for four years selling furniture and wood art designs. Kendrot likes doing different quotes, as well as Disney designs and Bible verses. They also like to try to stay in the same location so their customers know where to find them.
"It's just a really fun event and I think people should check it out every year because between fun shopping, supporting small businesses and great food, it's a good way to spend Labor Day weekend and celebrate the town," Kendrot said. 
Many people enjoyed spending the weekend with family and friends. "So that's kind of what this has really evolved into: bringing neighbors and friends closer together for the weekend," Johnson said. 
The 101st Harvest festival ended with a rain storm and a welcome of the fall season, and now the people of Windsor are waiting until next year for the 102nd Harvest Festival celebration.