Junior overcomes challenges living with muscular illnesses
May 10, 2023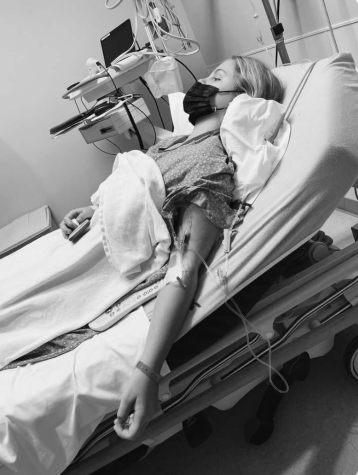 Ashlynn Nielson (11) was diagnosed two years ago with Ehlers-Danlos syndrome and postural orthostatic tachycardia syndrome. While some people would maybe lose hope in this hard situation, Nielson always continues to see the light and the positivity in the dark and hard times.
Ehlers-Danlos syndrome (EDS) is a type of illness that weakens connective tissue that supports the skin, bones, blood vessels and many other organs in the body, which makes it difficult to live an everyday life.
Postural orthostatic tachycardia syndrome (POTS) is only a single thing in a group of disorders that have orthostatic intolerance (OI) as their primary symptom. OI is a condition that excessively reduces the volume of blood that returns back to the heart after an individual stands up from lying down, sitting, etc.
"On a daily basis, I'd say that it causes a lot of pain in my head because my body doesn't make enough collagen, so everything is really loose," Nielson explained. "If I'm doing too much, it will tear my tendons. That also means that my head and my spine aren't in line and aren't very supportive. And so if I'm doing anything too complicated, that can cause a spinal fluid leak in my brain."
Her illness continuously tries to set her back by preventing her from being able to do sports or highly active activities due to the looseness of her tendons and the risk of spinal fluids leaking into her brain.
Learn to live in the same way with an illness like this isn't possible, but Nielson has found ways to live around it. Nielson still lives her life to the fullest with her family, friends and loved ones. Going on a new adventure each day, she finds the joys in life outside of her illness. She can still do things any other person can do, just with a small limit.
Though Nielson was diagnosed around two years ago, she initially was born with it. Not only has it affected her physically, but it's affected her mentally as well. As her illness tries to interfere with her happiness, she won't let it push her around.
"I was diagnosed with this about two years ago, but you're born with it. Sometimes it's just harder to figure out and get diagnosed. For example, my mom, she's had it since she was born and she just got diagnosed about two years ago," Nielson stated.
With the illness making both her school and general life hard, she's had to learn ways to overcome it. She's sometimes out of class due to the many surgeries and the everyday pain. There's those times when she's been out for weeks to months. But, by being a good student when in class, and even when not, she has found ways to catch up.
"
I think what I notice the most is how resilient she is. She's just always really good at bouncing back and taking care of herself and doing what she needs to do."
— Natalie Plowman, English teacher
"Ashlynn is always very kind and thoughtful and quiet, so it's pretty great being her teacher. She's social with her peers when she needs to be but she's good at doing her work when she needs to do her own work, so she's awesome," Natalie Plowman, Nielson's English teacher, said.
After several articles were written and published about Nielson, her peers have learned more about her and what her illness really is. With support of her loved ones and even the ones that aren't familiar to her, Nielson has fought through it all and still continues to do so.
As senior year approaches, Nielson is going out for the Poms dance team. She wanted to end her very last high school year with a bang. While trying something not as impactful on her tendons, she has high hopes for her final year at WHS.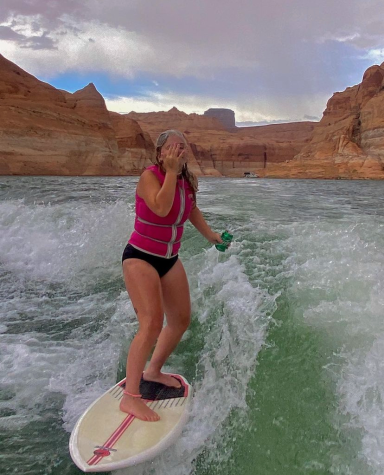 After Nielson got one of her biggest surgeries, which was hip surgery, she had big goals for recovery, which led to her needing to "fight" more. Soon after the surgery, she went lake surfing in Arizona at Lake Powell, which was one of her biggest accomplishments after surgery. In total, Nielson had three hip surgeries.
"So I had three hip surgeries. I tore my labrum, my IT band and many more tendons in my hip. I also have hip dysplasia. The surgery consisted of breaking the bone in four and reconstructing it so my hip would be more supportive so I wouldn't tear anything else," Nielson stated.
Although this illness has been hard on her, you will never see her going through it alone; her sister and mom were both born with these illnesses as well. All three of the Nielson girls have learned how to help each other through the hard times due to the relation and connection of the illness with one another.
Older sister Rylee Nielson ('22) has always been an inspiration to Ashlynn. Growing up like best friends has kept the girls close with a good and healthy relationship. But the similarities in illnesses has made their relationship even stronger and gives them each someone to relate to.
"She is so goofy. She always makes me feel better when I'm sad. She's always there for me. So, me and her are best friends. I love her — she's the best," Rylee said.
Nielson's family and loved ones have been a pillar of support for her throughout her journey. Their love, encouragement and unwavering support have helped her face the challenges of her illness with courage and strength.
"It was really scary and it was really sad, like we didn't really know what was going on at first. We just wanted her to feel better and not be so sick. It's been a work in progress. I mean, she's been in the hospital in and out, but we've learned how to have faith and just know that this is something that is going to happen a lot, and so we just keep being positive," Rylee explained.
Nielson's story is a great example of how someone can find the strength to overcome even the toughest of challenges. Her resilience and positive attitude can inspire others who may be going through similar struggles.
Her illness has only made her stronger and braver — surgery after surgery, physical therapy session after physical therapy session and recovery after recovery. According to friends, you will never see the pain on her face; she always seems to hide it with a smile.
"Ashlynn is just a really resilient person; I think what I notice the most is how resilient she is. She's just always really good at bouncing back and taking care of herself and doing what she needs to do, and I never hear her complain," Plowman stated.
All of the different scars, big and small, are part of a new story. A new fight. A new memory. A new story for her to tell. Nielson has touched the lives and hearts of many, both known and not. Her drive to get better and her motivation to succeed inspires others.
"If I could say something to her right now, it would just be how proud of her I am and that even though she's my little sister, I really do look up to her. She's been my rock. She's been a light in my life and I don't think we would be able to do anything without each other; we're joined at the hip," Rylee stated.