Percussion ensemble performs first alumni-written show
Every winter, percussion ensembles across the United States prepare and perform marching shows at competitions in order to prepare and practice for the outdoor marching band season.
Shows are commonly purchased through stock composers, but technician and WHS alumni Javier Lopez ('20) composed the WHS show for the 2023 indoor percussion season.
Lopez began drumming in the WHS percussion ensemble his freshman year. He began marching in drum and bugle corps during his last years of high school and afterward. Lopez currently studies musical education at UNC.
"The show 'Reflections' is about self-reflection… it's kind of like the journey through your subconscious where you're able to reflect on things in the past and look into the future," Lopez said.
Lopez's original idea for "Reflections" consisted of mirrors, astronomical symbols and many conceptual parts, but it is now a reflection of the season.
Lopez likes to use the troubles they've faced throughout the indoor season so far in order to conceptualize "Reflections" for his students when they perform.
His WHS students began the season with 22 members and now have 12 members. After a decline in members, Lopez rewrote a lot of their music and visuals. Students have been able to apply the confusion and frustration to their show, bringing them to third in visuals at their most recent competition in Longmont on March 18.
With the loss of many members, the ensemble has one snare drum and one marimba when percussion ensembles most commonly have a minimum of two to three snare drums and four to six marimbas.
"I'm the only marimba player…. It's kind of scary… it's cool to teach other people because I remember being taught stuff and now I can teach others what I know," sophomore and pit section leader Madelynn Alexander said.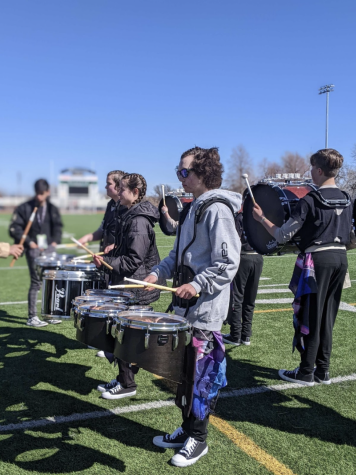 Lopez and other technicians have focused on one-on-one rehearsals, which also brought the ensemble to second in music with a 68.500 overall at their Longmont competition.
"This is the first time I'm writing music for an entire ensemble…. from a personal standpoint, I think that writing shows (is) much better. You end up getting a better product because it's kind of like you grow this thing, and you see it evolve and change. You really want to put your utmost effort into making it happen and making it good," Lopez said.
Because of the decline in participants of the percussion ensemble, WHS has invited eighth graders from Windsor Middle School to perform with them. Eighth grader Gavin Wagner is a concert percussionist at WMS. He is one of the two eighth graders involved this season.
"It's a lot of stuff to do and a lot of work…. It kind of gives me a headstart with my friends, making new friends, getting used to the high school and the band program… it's just kind of awesome," Wagner said.
Now that it's April, the students are transitioning to focus more on their finals but continuing this expectation of excellence.
"I'm just really proud of the percussion ensemble this year because there's a lot of things that have happened in terms of logistically and financially and just to see them come every day and give their hardest efforts and really push to make this happen has been really, really exciting for me and really, really good," Lopez said.