Students on — and off — stage performed "Chicago: Teen Edition" in the auditorium March 16-18. This was the first time in five years that the pit for the spring musical was comprised almost exclusively of students. There were 12 WHS students and three professionals in the pit.
The last musical to have had a student-run pit was "The Music Man," which English teacher Jerrod Griebel played the piano for. "I was very impressed with what Ms. Muñoz did, bringing that back to the student position when she was a first-year teacher at this school," Griebel said.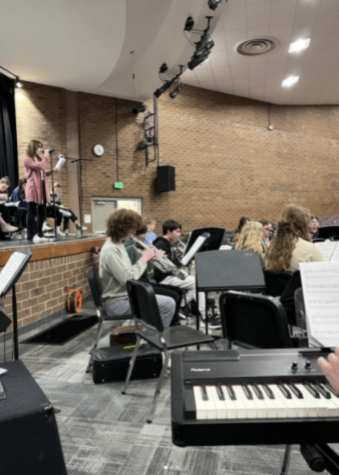 Many students who were a part of the pit have never done something this challenging before but much enjoyed it: "It was really fun and I liked the challenge and I got better, I think," freshman Chloe Overholt said. Overholt played violin in the pit during the musical.
The 12 students in the pit were in members of symphonic band, wind symphony, orchestra and percussion, and many were surprised to hear that Meghan Muñoz, the newest band teacher at the school, decided to direct a student-run pit opposed to hiring exclusively professionals.
Story continues below advertisement
Junior Cole Cooper wanted to play the trumpet solo for the song "All That Jazz for Chicago," Muñoz said. This confused her because she "had the impression that no students wanted to play."
Though the interest turned out to be there, Muñoz had difficulty finding people to play certain instruments. For example, some of the songs required a banjo and there wasn't a student who knew how to play one. Luckily senior Preston Alexander was willing to learn the banjo for the occasion. "He worked really hard over break to learn it, and he did a really great job," Muñoz said.
This was an extremely difficult type of music for a high school level band according to Muñoz: "They have to deal with incredibly difficult ranges and they had to count rhythms that they never had to count and their ornamentation stuff they would never see at the high school level." Despite the difficulty, Muñoz said students worked hard to make an amazing performance, including rehearsals every other day from 6 to 9 p.m.
In the end, students on and off the stage — from these musicians to the performers and tech crew — put together a performance worth watching and learned a lot in the process. Is this something musical attendees should expect in the future? Muñoz said, "Yes, if students want to do it, absolutely."