As the 23-24 year kicks off, students have begun getting back into the school mindset. The long hours of homework, good grades and appeasing teachers has once again become the everyday norm for students.
Ava Andreason (09) and Levi Bacon (09) are some of the many new faces at WHS. During the transition from middle to high school, they quickly realized how different the atmosphere and work environment is.
"I enjoy being treated more like an adult rather than getting kidded around, but it puts more responsibility on my back as a freshman," Bacon stated.
More workflow turns into more work getting piled up and forgotten about. Motivation is typically high at the beginning of the year for most students, but as work begins to get produced at a more rapid rate, the motivation can quickly get buried under all the pressure and undone work.
Story continues below advertisement
With the fear of bad grades, students make goals to stay on top of work and keep grades up. These goals help students have a successful year. Hailey Andreason (12) has had three previous years of high school experience to learn how to keep herself motivated.
"I'm trying to sleep a lot and really stay on top of the work I get in class," H. Andreason said.
Many students have after-school activities that can affect their work ethic. Fall and winter sports are beginning to start back up again as summer ones are ending. Some students will have hours of homework after practice, meaning that they have to stay up to get everything completed. The late night and early mornings result in students often being tired and not capable of fully functioning.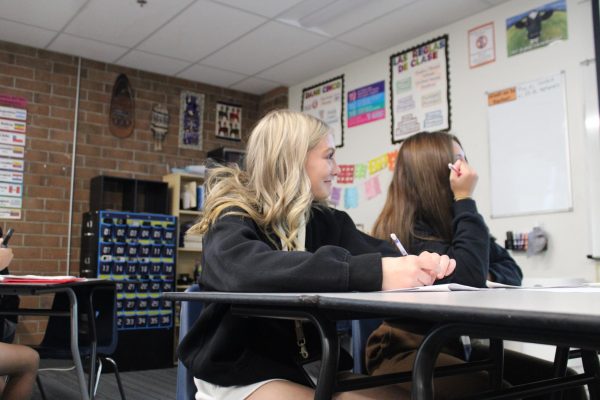 "Sports affect schoolwork because you have to juggle both and doing homework," A. Andreason explained.
This results in students not having their full brains to learn the following day at school. The late nights don't just affect the students but the work that is produced from them as well. Because students stay up late, their homework often isn't completed to the best of their abilities. Teachers like Liz Kampschroeder (staff) have their own views on homework and students staying on top of work.
"I don't think students plan well enough, and so they get behind because they get distracted easily and they come back from summer and suddenly have eight classes and they're not used to having to really prioritize their time and they really get sucked into their phones," Kampschroeder stated.
Homework is a consistent cycle. Most students begin trying to catch up after falling behind, which causes the cycle to continue for longer. They begin getting tired of trying to catch up, causing them to give up. This is where many bad grades start, as well as bad habits.
"There's usually work assigned every day, so if you don't do it one day, you come in the next class and you have more work and that just adds and adds and adds," H. Andreason said.
Procrastination is one of the biggest issues in not just high school, but middle and elementary schools as well. It prevents students from getting work done when it's given to them.
"I just never get around to it. It's not that it's hard, again, there's motivation that I don't have," Bacon explained.
As the year goes on, teachers and administrators try to help their students set and achieve goals, often during advisory. These goals help with motivation, a positive mindset and overall mental health.
"I think it's finding out what motivates students. Because I can't motivate a student; I can help a student figure out what they're motivated by and so it's not about me motivating a student but it's sitting here talking through like where do you see yourself next year? Where do you see yourself in five years," counselor Sarah Johnson (staff) stated.
Mental stability is yet another aspect that can affect students. An unstable mental health can negatively affect a student and their ability to properly function. For example, work won't be completed to the best of their ability when not feeling their best.
"As a teacher, I think the most important thing you can do to help kids with mental health is to give them a space to feel comfortable to talk. So I guess in my classroom, it's just flex seating and no judgment and they're welcome to come in and talk about anything that isn't unsafe or illegal, and it doesn't go anywhere, it just stays in the class," Kampschroeder said.
As the weeks continue to pass by, many students focus on what they can do to get all of their work done. But the tactics they find aren't for everyone; they find skills that will benefit them and their learning style best.
"Don't force yourself to do work when you're not feeling it. If I'm sitting there reading and I can't focus, I know I'm not going to retain what I'm doing, so I just give up, go do something else and I know I have to revisit it later, and it kind of sucks, but I know it will benefit me more if I do it later when I'm feeling focused and motivated to do it, so that I'm actually retaining what I'm doing and not just going through the motions," H. Andreason explained.